BAMBOOLOVE
Bamboo Pants
---
Delicate, disposable bamboo pants, created for the most sensitive skin.
Breathable, super absorbent, chlorine free, no scents added, hypoallergenic, dermatologically tested, wonderfully soft and skin - friendly.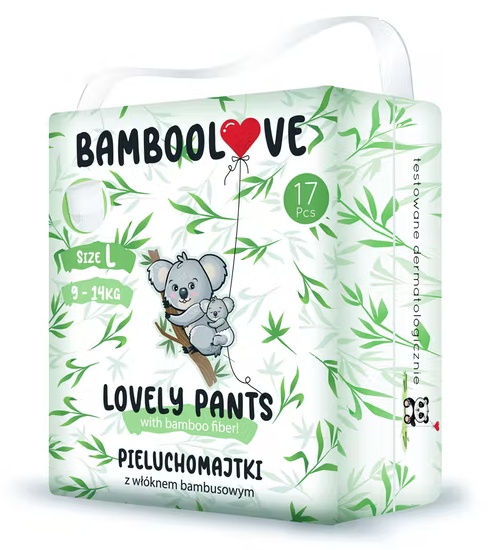 Bamboo pants are a more sustainable choice
---
Bamboo is the fastest growing plant in the world! Generates up to 30% more oxygen than other plants, grows without pesticides or fertilizers. Only in Europe, around 20 billion diapers are used annually. They represent the third largest waste in landfills. The bamboo layers are 100% biodegreadable.
BAMBOO PANTS LIKE A KOALA HUG
---
Join the Bamboo Revolution
BAMBOOLOVE PANTS are delicate, disposable nappy pull-up pants, with backsheet and topsheet made of 100% BAMBOO - for the most sensitive skin. BAMBOOLOVE PANTS are a great solution for active Babies - they are put on like ordinary panties, without the need to fasten velcro. Delicate elastic bands at the waist, adjusting to the body, give the child freedom of movement and comfort. Take off by pulling off like panties, or tear the sides with one move.
lining and outer, breathable layer is 100% BAMBOO
our diapers and pants do not contain chlorine, perfumes and lotions
wonderfully soft and skin-friendly
bamboo layers are completely biodegradable - this makes BAMBOOLOVE more environmentally friendly than conventional diapers and diaper pants made entirely of plastic
Hypoallergenic. Dermatologically tested.